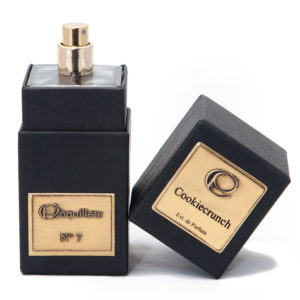 Coquillete N°7
COOKIECRUNCH
A tasty olfactory dessert where crispy cookie crumbs and meringue, soft in the inside, unite with the cheerful effervescence of citrus accords. A sweet and unusual alchemy of smoky caramel and cream that contributes to the secret of this tempting recipe. A dense and bubbly candor where fleshy vanilla beans diffuse their delicious aroma. Cookie crunch is a gourmand and soft fragrance just like a freshly baked shortcrust pastry.
Accord of cookie, meringue, vanilla, cream and icing sugar notes.
A sunny mix of fruits blended with flavors of roasted coffee, white flowers and musk, all generously coated with unsweetened cocoa. A topping of melted dark chocolate covers the petals of a shy Rose, while being the shiny and secretive shell of succulent ripe fruits bites. Sensual Patchouli and precious Ambergris complete those elegant and inviting olfactory harmonies with a musky and profound sweetness. Mirabilis is a fragrance unusually fresh with original gourmand facets.
Head: bergamot, grapes, pineapple, green apple, bitter cocoa.
Heart: jasmine, patchouli, birch bark, rose, coffee.
Base: ambergris, vanilla, musk, white musk, accords of chocolate and bitter cocoa.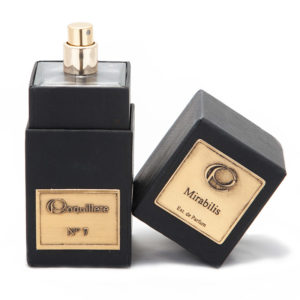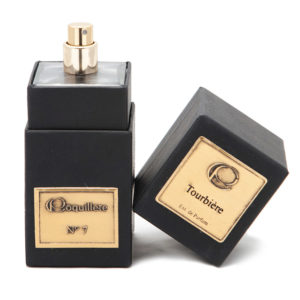 When bitter Almond dips into Cuban Rum, and gets exalted by Lime and soft Madagascar Vanilla, she turns into a lively elixir. The fragrance opens on a surprising effect of earthy and moist Peat, enriched by subtle hints of licorice in the background. The bouquet promises a citrusy and slightly alcoholic explosion that hides a balsamic and woody heart. Tourbiere is a determined, yet soft fragrance, warm and enveloping as a silky charcoal-colored velvet.
Accord of bitter almond, madagascar vanilla with cuban rum aromas, lime and peat.
A cascade of golden Honey and creamy Vanilla stands out in a crisp scent of roasted Almonds. Pink and white flowers soften the food of the gods with delicate floral notes. A powdery, thick and opulent embrace from which emanate prolonged floral sighs. A delicious nectar of diluted romanticism that delights the senses, which surrender to a hypnotic and provocative juice.
Accords of rose, white flowers, bitter almond, white musk, honey and vanilla.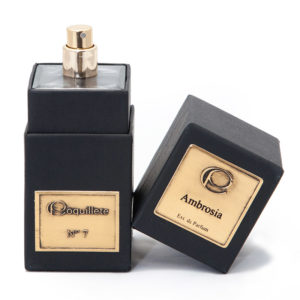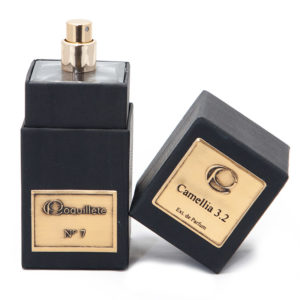 Coquillete N°7
CAMELLIA 3.2
A refreshing sea breeze with reminiscent floral and exotic scents. Intense green notes mingle with bright and soft white tea. The smell of sheets dried in the sun during a summer day. Camellia 3.2 is an olfactory watercolor of salt, sand and sun oil; a canvas of faraway islands and of large and fleshy white flowers, sublimated by a sumptuous Amber accord that evokes the warm kiss of a sunbeam.
Marine (calone) accord with citrus and amber base notes, following a heart of floral green notes and white tea scent.
A dry and uncompromising scent, exhaling citrus notes and whiffs of Rum, retro Lavender and woody Vetiver. A bouquet of delicate flowers that blend with masculine accords of Leather, juicy Citrus and warm Musk. Navy Rum portrays a modern dandy who smells of old-time gallantry. A fragrance of disarming and exclusive freshness.
Head: bergamot, orange, lemon, neroli, rum.
Heart: mimosa, lily of the valley, cyclamen, jasmine, white flowers, lavender, musk.
Base: musk, oak moss, leather, patchouli, sandalwood, vetiver.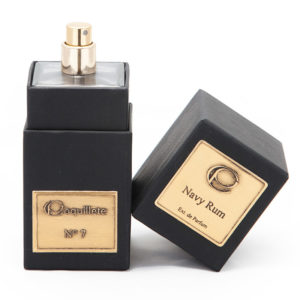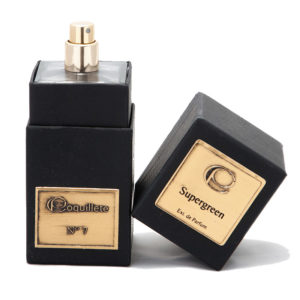 Coquillete N°7
SUPERGREEN
Supergreen is an allegory to Van Gogh's painting the "Green Wheat Field", which sets the scene for a Saffron-colored sunset, while conveying the scent of freshly cut grass and of yellowing hay. The fragrance opens on a hint of Mint and spices, strengthened by a drop of Lemon. Then, the Rose delightfully embraces a bitter and irreverent Geranium, while the gourmand heart of Berries stands out in a finale of Incense and aromatic woods.
Head: geranium, lemon, cloves, mint, rose damascena.
Heart: amber, sandalwood, berries, peony, saffron, incense.
Base: musk, vetiver, cedarwood, white musk.
Coquillete N°7
ROSA MUSCOSA