Coquillete Paris
Each of the five genderless fragrances has a distinct personality and a story to tell. Each one is an evocative combination of notes that takes us on a journey of richness and substance.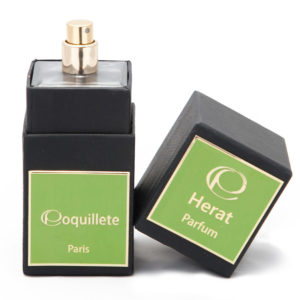 Herat is the signature fragrance of Coquillete Paris. Inspired by a poetry contest for young Afghan women, the perfume is a magnificent interpretation of the Afghan hashish  – the black gold of that troubled country still torn between war and poetry. An enticing composition where tobacco, jasmine and incense blend in perfect harmony.
Head Tobacco Cuban, Grasse jasmine, Ylang Ylang Polynesia.
Heart wood amber Afghan hashish, myrrh Madagascar, cyst of Morocco, Oman incense.
Base Oakmoss of Cyprus, ambergris, vetiver and tobacco.
A very special and private event is at the heart of this fragrance: Elise's wedding. Sulmona is a pleasing and sweet perfume; a cloud of sugar and almonds that reminds the scent and taste of dragées. A tribute to all married women and to the most beautiful day of their lives. But not only. Sulmona also appeals to men who usually wear balmy juices.
Head Madagascar Vanilla, brown sugar, almond.
Heart Vanilla, bitter almond.
Base vanilla, orange blossom.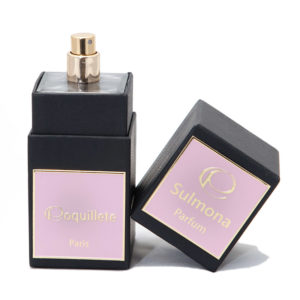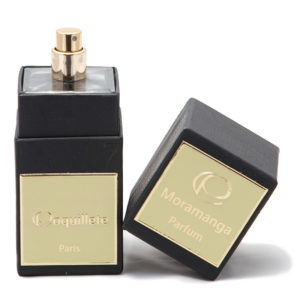 Coquillete Paris
Moramanga
An opulent perfume that expresses the colors and scents of the flowers of Madagascar. The juice leaves exotic traces, while alluding to the enchanting warmth of a generous nature.
Head jasmine, gardenia Indian iris of Japan
Heart tolu, benzoin, opoponax Ethiopian
Base of Madagascar tuberose, ylang ylang Polynesia, Madagascar vanilla, musk Asia
Coquillete Paris
Sumatera
When a Green Patchouli from the Island of Sumatra meets an exuberant cinnamon, the result is a surprising and tempting fragrance. Its exceptional bouquet is enhanced by the fresh patchouli, hand worked according to ancient tradition.
Head  chinese jasmine, white flowers, patchouli green sumatra, cinnamon, black pepper.
Heart cedar wood, musk and patchouli.
Base Vanilla, jasmine.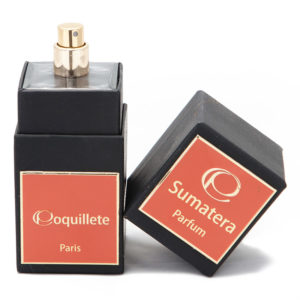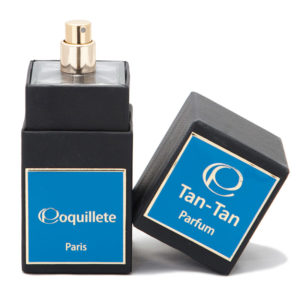 The summer ends. A mystical duo of pine and absinthe set the scented atmosphere. The fragrance is a blend of sweet fig from Morocco and Pakistani vetiver, with undertones of amber, musk and copper. Offering whiffs of vintage notes, Tan-Tan – an allegory of the intriguing port city of Morocco – is where the olfactory journey ends.
Head pine needles, bergamot from Calabria, artemisia, Moroccan white fig
Heart Calabrian cedarwood, Pakistani vetiver, Plynesian jasmine, green patchouli from Sumatra, carnation from China
Base figtree bark, coconut milk,  white musk, ambergris, geranium, sandalwood and leather.
"The roses fall, the thorns remain" – Proverb Symbol of the end of the Hundred Years War, the Tudor Rose represents peace after a long and difficult struggle. It reminds us that we should come to terms with our wounds and life's obstacles, since these challenges keep us away from ourselves. A fragrance that frees from fleeting artifices and reveals pure beauty. Petals carried away by the autumn wind, a jumble of bushes, wood, roots, and soil. A metaphor that is nothing else but a celebration of life in its simple and essential form. Deep, enigmatic and penetrating notes that end on a sweet and amber accord. TUDOR is the sixth and final perfume of the collection. It is the last step of the journey, the most demanding: one that leads inside ourselves.
Head: rosewood, Chinese geranium, lily of the valley.
Heart: amber wood, benzoin, soil.
Base: rosewood, benzoin, labdanum, ambergris, vanilla from Madagascar.